Once we finally got up to Vulture's Row (I'm convinced if you want a good workout, spend a week aboard a carrier, there's so many ladders to climb and hallways to walk), which was relatively empty at that time, the sun was already starting to set. Peering out, I feared a very unimpressive sunset as the sun was behind a marine layer of clouds, and the light on the flight deck was more of an overcastted sunset than anything dramatic.
But in just a few minutes, the sun started to peek through, and soon multiple rays of orange flight danced through the clouds in bright beams as if a new sun was being created in those very clouds. The light became spectacular, the orange glow pouring color all over the sides of the various Hornets that were lined up on the rear of the flight deck. At this point, we were far enough away from the Hawaiian Islands that they were no longer visible, even in the distance. It was just open sea all the way around and as far as you can see, something that I'd never seen before on a ship and it was a bit odd to think we were all alone out there. There's a sense of loneliness to this, but yet also a sense of wonder and awe of the sheer amount of liquid ocean on this planet. The waves and swells in the ocean played with the reflection of the beautiful sunset, now in full swing.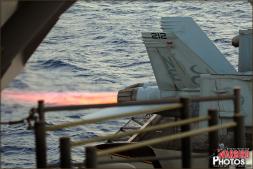 I think I snapped every possible angle and shot there could ever have been from that Vulture Row balcony as the sun slowly set. Crews were still hard at work, being they were the only people allowed on the flight deck at this time, moving around jets and doing various checks on the many fighters. One thing I stopped to really take in was the fact that I was standing on an Aircraft Carrier, out at sea, loaded with well over 35 of my favorite airplanes of all time. I couldn't think of a more special place to be at that moment as I stared out at the sea of water and supersonic aircraft. While the crew might not think anything of it as they see it every day, I was really excited to see them parking F/A-18C Hornets next to the newer F/A-18E and F Super Hornets. This provided some great shots of the old and new Hornets next to each other, clear examples of their differences and the upgrades to the Super Hornet. As the last little bit of sunlight was sucked back in behind the clouds, and the light started to get much darker forcing me to crank up my camera's ISO (sensitivity to light) to get steady shots with the ship gently rocking, a very loud roar filled the silence. One of the F/A-18 Super Hornets on the back of the ship was fired up and undergoing high powered engine tests. This included full afterburner testing on the engines, which I immediately ran over and got what shots I could of the afterburner burning very brightly over the water. The sound was incredible, and I probably should have had ear protection and a cranial (flight deck ear protection helmet) on, but it was great hearing the raw power of the Super Hornet, and honestly wasn't anything louder than I hear at any given Airshow. As the light started to fade even faster letting the darkness creep in, it was finally time to head back down.
Before I went on this trip, I was afraid of one major thing: seasickness. Never having been on anything larger than a ferry ship going from Orange County to Catalina Island and back, I'd never been out to sea on a large vessel in any type of heavy seas. I was assured that I'd be fine as a ship the size of an Aircraft Carrier doesn't really rock much, and that the seas are normally not bad from Oahu to San Diego. I still brought some seasick pills just in case, last thing I wanted to do was give my wonderful lunch back to the Navy. Even still, I was assured I wouldn't even really feel the waves and rocking at all, and at most it'd feel like a light gentle rocking that was more soothing than cumbersome.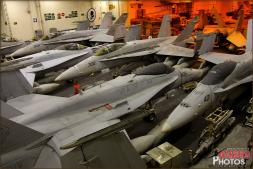 Very neatly and carefully packed F/A-18C Hornets form a sort-of mazed wall in the hangar deck of the USS Abraham Lincoln Aircraft Carrier - Photo by Britt Dietz Well, what they hadn't counted on was the continuously growing swells throughout the trip, and we were already starting to hit swells of 8 feet. May not sound like much, but it was enough to rock the ship pretty well, and for those who are not on ships very often, having to climb up and down many ladders and walk through narrow hallways, it was tough to find your sea legs. I found myself bumping into walls, having to hold on tighter to the ladder hand rails and sometimes even stop moving for a second until the ship settled from a large dip during the peek of the swell. If only I'd known at the time just how bad it would get in the coming days, I may not have figure it was all that bad right then. But even with the rocking getting more intense, I fortunately didn't find myself getting nauseous. I suppose that little voice in the back of my mind that was freaking out the entire trip trying to comprehend the fact that I was on an Aircraft Carrier probably took the rest of my mind off any thought of being seasick. Arriving back into the hangar deck, we found a stage being put together and a Navy band getting ready to provide some entertainment for the night. I took the time as we walked around to get some black and white shots inside the hangar bay, something a bit more artsy since we had some extra time. There were a lot more aircraft in the hangar bay now, having been brought down throughout the day and packed in tightly. I wanted to head back up to that door way that opened to overlook the entire flight deck, so we made our way up there and snapped shots of the now doubled amount of Hornets packed into the section of the ship. It was like a wall of grey beasts all coming together lined up nearly and perfectly in a very precisely shaped puzzle. After snapping quite a few shots, the band started playing various cover songs. This wasn't your typical military band, it was a group of crew and sailors from different departments that had gotten together during deployment and formed their own ship band, which they performed for the rest of the crew on select nights. Lots of Tigers and crew were all sitting on the hangar deck floor listening to the music. My sponsor and I stayed for a bit listening to them play, and then decided to head to the Fan Tail where I had started my day to see the stars and get some fresh air.
On the way to the Fan Tail, I was hoping to see something I haven't seen in far too many years having lived in Southern California all my life: a sea of infinite stars to accompany the now very dark sea of water. To my surprise, enough ambient light from the Aircraft Carrier made it look more like home with the stars in Southern California, and there wasn't nearly as an impressive collage of pinpoint lights that I was hoping. It was, though, very beautiful to be back there with the powerful churning of water from the ship's screws making that several mile long wake of displaced water, and the brisk yet still a humid ocean air mixing to feel perfect.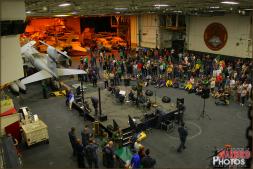 Tigers and assorted Navy personnel gather around the hangar bay of the USS Abraham Lincoln to listen to the cover band made up of Lincoln volunteers - Photo by Britt Dietz Even though the stars weren't very impressive, the moon was one of the clearest looking I'd ever seen it. I would assume the lack of smog and pollution in the sky made this possible, and even though the moon wasn't completely full, the light did illuminate the waves and allow some limited yet beautiful views of the endless ocean. Taking advantage of the very luminous moon, I popped on my large telephoto lens and zoomed in snapping some shots. My sponsor, who had a Nikon camera (blah) was curious on how to get shots of the moon, so we spent some time back there as I took him through some tricks to get the best moon shots possible with what lens he had. Finally, after spending a bit of time back there, we headed back inside to the concert, and walked around the hangar deck checking out the various sections and features that made up this massive space. We made our way back to the concert, but only stayed briefly deciding we were both pretty tired and ready to hit the bunks. I was excited for the next day as it would be the day of the big Air Power Airshow that the various squadrons were going to put on for us, and I kept hearing more and more amazing things that this airshow would have that are unheard of on any land based airshow, so I wasn't about to complain about getting to bed a bit early. Not to mention I had to clean my camera and get everything charged up and ready for the show the next day, including dumping off all the images from the current day onto my laptop which I was allowed to bring. It still took nearly an hour to get everything cleaned and ready enough, and by the time I once again awkwardly figured out how to get up to my bunk and nestle into bed, I was pretty tired. Before my eyes closed and visions of Hornets danced around in my head, I noticed that the ship was even rockier than ever, and that I could feel every swell we hit, as they were coming in at the ship from the side. I hoped that I was tucked in tight enough not to roll out of bed and on a short yet high flight to the floor. I half wondered if I'd be able to fall asleep with all the movement, but only half wondered as I fell asleep before I could finish the thought...


CONTINUED IN PART 3 OF THE USS ABRAHAM LINCOLN TIGER CRUISE 2011 STORY, COMING SOON! CHECK BACK ON WARBIRD PHOTOS FOR THE REST OF THE 7 DAY TRIP ONBOARD THE CARRIER! FOR THE ONLINE REPORTS FROM THIS SERIES, CHECK OUT THE LINKS BELOW:

PART 1» STORY • PHOTO GALLERY
PART 2» STORY • PHOTO GALLERY
PART 3» STORY • PHOTO GALLERY
PART 4» STORY • PHOTO GALLERY
---