With all the excitement of leaving port, I'd put off the smell of food that was dancing around my nose coming up to the hangar bay. That being said, there's only so much you can do to avoid that smell, especially after skipping breakfast, and it was time for me to give in. It didn't help that I could smell what smelled at the time like French Fries and Burgers. Heading down two decks I found myself for the first time about to eat onboard a US Navy ship, and the first time I'd experience what Navy chow is like.
Now, like most people I'd imagine would believe when they think of any type of military mess hall, I expected to stand in line with a tray, and have some sort of half solid half liquid goop plopped on my plate by an overweight scruffy looking chef smoking a cigarette with a dark 5 O'clock shadow. Walking up to the mess hall, I found myself not sure what to expect as far as the food would go, hoping it something that is at least edible. I will admit, I'm a pretty picky eater, and this worried me as I didn't believe one would have that much option on board a Navy ship, and I expected to just eat whatever I could get. As we passed one of the many mess hall serving lines in this massive collection of mess halls all next to each other, I noticed that the line seemed really long, disappearing behind a bulkhead door. Everyone who had been watching the activities of leaving port had gotten the same idea to come down and get some food, so I prepared to wait in a long line for food. I figured standing in line would give me more time to figure out what type of food was being served. I should have known just by the fact that there is a full fledged Starbucks aboard the Carrier that my thoughts on what to expect wouldn't even be close. As we entered one of the larger seating rooms of the mess hall, I was taken by my sponsor towards a door on the side of what looked like a temporarily placed grey wall that formed a makeshift room in the center of this mess hall area. Curious as to what was inside, I was informed that we'd be eating somewhere really special, the First Class Mess Hall. After heading inside, it was like a different world, with big screen TVs, private food bins, various types of drink fountain machines, and best of all... no lines.
You may be asking, what is this magical hidden place, and why is there so few people in it? The First Class Mess hall is a bit of a private club, a special treat for those who have worked very hard to become First Class in their rank. Like an Officer's Club, this specially erected area is a privilege, one that has been taken away on many other ships due to them being used for the wrong reasons. As department leaders, First Class personnel wanted a place where they could spend time together away from those in their departments to brainstorm with each other about problems, get advice and solutions, and mingle with others who deal with the same types of stress and everyday trials of leading a department. I was very fortunate that my sponsor was a part of this well earned privilege and I found that only a handful of other Tigers had sponsors with a First Class rank.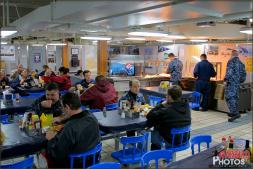 The nicer First Class Mess Hall specially for those who are department leaders and have earned First Class rank status - Photo by Britt Dietz Aside from the more quiet atmosphere and always stocked drinks and dry foods 24/7, the nicest part of this private mess hall was the fact that it had all the food that was on the outside with long lines, but was wait-less in this room and always hot and ready for loading your plate. With that pleasant surprise, now it became time for the moment of truth, to see what Navy food was like. Walking over to the food heaters, with their bright orange lighting from the heat lamps glowing bright, I was once again proved wrong with my stereotype thinking that I had of the Navy that was completely wrong. No, this wasn't sloppy goop food; this was real food, and GOOD food at that. What I found was a buffet of pastas, different types of Mexican salsa chicken, rice, and something that really caught my fancy; Macaroni and Cheese casserole. Loading my plate with a lot of that Mac and Cheese, we briefly left the First Class Mess Hall and headed out to the main salad bars, which rivaled those you'd find in the fancier buffets in Las Vegas. It was then I discovered the Chicken bar, which was loaded with everything from chicken wings, drumsticks, and even delicious chicken fingers. I couldn't believe how much food there was with even the drink choices being unbelievable where I could make my choice between Coca Cola and Pepsi soda fountains. How many restaurants do you know of that let you choose? Now, that all being said, being fair to the crew of the ship I did hear that we were getting much fresher food than normal as not only had we just restocked in Oahu with fresh supplies, but many believed that they spruce up the food quality because Tigers are onboard the ship. Either way, it was a very enjoyable and filling lunch, unlike anything I could have imagined!
With our tummies full, my sponsor and I decided to head up to the flight deck and check out Oahu in the distance and see how far we'd sailed out to sea. It's a bit of a journey getting from the mess halls to the flight deck, having to take many different hallways and ladders to get up to the top.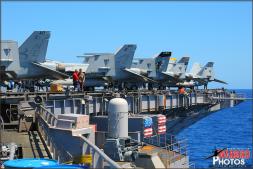 Boeing F/A-18 Super Hornet tails hang off the side of the USS Abraham Lincoln Aircraft Carrier while out to sea - Photo by Britt Dietz Once up there, emerging from the side of the island (tower) on the flight deck, we were suddenly pummeled by the intense winds that raced across the flight deck from our rather fast cruising speed. There were lots of Tigers with their sponsors on the flight deck, walking around and looking at the various aircraft on the deck and out towards the now distant Honolulu shore while trying not to be blown away. You could still clearly see the towering hotels that littered the coast of Waikiki beach and the ominous Diamondhead extinct volcano, one of the major landmarks of Oahu. Most of the F/A-18s and other aircraft on board were currently up on the flight deck, save for maybe only a dozen or so that were down below in the hangar deck. Walking all the way forward to the very tip of the Lincoln, I peered over the side precariously, trying to stay standing from the intense winds that were pushing me back. Other people tempted fate by leaning fully forward letting the wind hold them up over the very forward edge of the ship. After snapping shots of the aircraft with the now beautiful blue ocean behind them, I walked down to one of the side catwalks along the side of the flight deck and snapped some more shots of the rows of packed Hornets. You had to be careful when hoping down to the catwalks, as it was very easy to lose your balance with the rushing wind, and while you might only fall onto the catwalk, if you happened to fall just right you might be the first Tiger to go overboard this trip, and it's a long way down. You learn to take things like that a bit more slowly just as a precaution. After spending a bit more time on the catwalk, it was apparent that it was just way too windy to be up there without a 'float jacket' (life preserver basically) on, which would end up being required via an announcement made soon after throughout the ship for all those wanting to be on the flight deck to have one on.
The large waves generated by the USS Abraham Lincoln Aircraft Carrier come head to head with slight swells out to sea just beyond Oahu, Hawaii - Photo by Britt Dietz Heading back down into the ship and to the hangar deck once again, I went over to one of the starboard at-sea refueling stations where you could see the wake from the front of the Lincoln, and was also next to the incredibly packed standing room only smoking room. I found a bit of irony that the designated smoking room was right next to where millions of gallons of JP5 jet fuel are taken onboard. Unfortunately, while the view was spectacular, the mixing horrid fragrance of different cigarettes was too much to handle and I had to head back into the hangar deck. It worked out, as it was almost time for the scheduled Man Overboard drill to take place. The Commanding Officer of the ship had announced that the drill would be happening earlier in the morning during the daily morning announcements over the ship wide PA system, called the 1MC. There are different PA systems on board the ship that broadcast to different sections, such as 5MC which broadcasts only to the flight deck. This Man Overboard drill was not only a simulation for Tigers to see and be a part of, but it occurred to me it was probably also to check and make sure no one had been left in Oahu. What the drill consisted of is each department onboard the ship grouping together and roll call taken of personnel and Tigers. Once everyone in each department was accounted for, you were dismissed. If someone was missing, even though this was a drill, it would mean a ship wide search for the person. Unfortunately for the security group, there was a missing person that couldn't be accounted for, so we had to stand in our formation for a bit until that was cleared up. All in all, it took about an hour for this drill to complete and every department dismissed as it started much later than the planned time. As I waited for it to end, I watched as the other Hawaiian island of Maui appeared in the distance, and I realized we were sailing between Oahu and Maui.
Finally free from the drill, I went with my sponsor and toured some more of the ship, seeing some of the different areas I'd not been to yet. One area of interest for me was an open bulkhead door that over looked the entire hangar deck. It was a spectacular view of all the aircraft packed in there, and some unique high angles of Jets that you can't normally get shots of.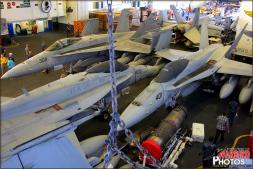 Packed in like fitting pieces of a jigsaw puzzle, F/A-18C Hornets are carefully placed utilizing the least amount of space possible in the hangar deck of the USS Abraham Lincoln - Photo by Britt Dietz I snapped a lot of photos from this spot of the many Hornets that were lined up so tightly, you would wonder how they don't hit each other in rough seas. All in all, we were really just killing time waiting around for the Tiger Cruise coordinators to set up their tables in order to give out the Tiger Qualification Standard packet, T-shirt, and other little goodies in a special bag. There were a lot of others waiting around like us, and the time frame to get the packet and items kept getting pushed back, so we just sat around the hangar deck and watched the various crews working on the jets. To kill more time, we headed back to that fueling station next to the smoking room; this time thankfully the smoke smell was blowing the other way, and made for a nice location now where you could watch the waves that the massive ship was making. What really intrigued me was the color of the water, and how ocean this far out turns a vivid aqua color when displaced and churned. It was a beautiful color, and only seemed to happen occasionally as larger waves from our ship collided with the light 5 foot swells. After spending a while there, it was back to the hangar deck once again to check on the progress for the packets, and we found ourselves in the middle of a lot of aircraft shuffling. Crews were moving Hornets, Prowlers, and Seahawks around in the hangar deck and securing them down to work on and get ready for their eventual departure in a few days.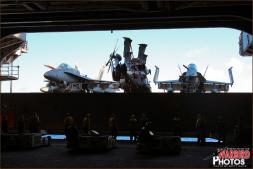 Two F/A-18C Hornets and one MH-60S Knighthawk are lowered on the starboard elevator of the USS Abraham Lincoln - Photo by Britt Dietz Seeing a bunch of aircraft crew standing near one of the elevators, I suddenly realized I'd get to see something I'd always wanted to see: an Aircraft Carrier's elevator in action with what I'd hoped was aircraft on it. The elevator was in the up position on the flight deck, so I didn't know what would be on it when it came down, it could just be a cart from up top or various supplies not needed up there anymore. So I anxiously waited to see what surprise would come down, and got my camera ready just in case along with several other Tigers who were taking photos and shooting video. As we waited for the elevator to come down, I learned something very unique about the elevator systems on the ship. There are 4 elevators on the Abraham Lincoln, 3 on the starboard side and one rear elevator on the port side. Each elevator has its own sound, a different siren or horn, so that you can never be confused about which elevator was moving. Further more, for safety, retractable stanchions that would lower into the ship once the elevator has reached that level and is stopped prevented people from getting too close to the edge of the elevator bay and either fall off the side of the ship or get crushed by the elevator. I thought this was a very clever idea with both the flight deck and hangar bay having these retractable stanchions. Soon the loud siren for this particular elevator, which was the forward most starboard side elevator, rang loudly, and with incredible speed that I wasn't prepared for it came down with two F/A-18C Hornets and a folded up MH-60S Knighthawk between them. Jackpot!! I'd always wanted to see an F/A-18 Hornet come down one of those elevators, and I finally got my chance. I stayed and watched them unload all three aircraft and pull them over to various parts of the hangar bay, most likely making some room for them to work on the Hornets doing engine run ups on the flight deck.
Finally, it was time to get in line to get the packet and goodies. During the time in line, I found out what the Tiger Qualification Standard packet really was. Called it a treasure hunt, or an educational journey throughout the ship, this packet was an activity that both a Tiger and his or her sponsor could embark on, taking them all throughout the ship to various important sections where they were be given a tour and have a chance to ask questions and see first hand all that makes up this floating city.
The Tiger Qualification Standards Packet and the Tiger Warfare wings from the USS Abraham Lincoln Tiger Cruise 2011 - Photo by Britt Dietz The Tiger Qualification Standard (TQS) packet was your guide, having you get signatures from various crew and personnel as you visited different areas and followed the packet's steps. For example, the TQS packet would have you visit each of the different aviation squadron Ready Rooms along with all supporting areas for the squadrons including the Maintenance Work Centers. They may have you also meet a particular commanding officer of that squadron and shake his hand, or ask one of the pilots the history of their squadron or a particular trivia question about why that squadron is famous. This program for the Tigers ensured that you always had something to do, even during the down times, and allowed you to see almost every major area of the ship. Along with the packet, Tigers were given their goodie bags that consisted of a special Tiger Cruise 2011 t-shirt, Tiger Cruise water bottle, challenge coin for the current deployment, and really high quality pewter Navy 'Tiger Warfare' wings. All of this was contained within a special Tiger Cruise 2011 black thin backpack that you were given, a nice surprise for all Tigers! From there, it was back down to the Security berthing area where I sat down in front of the large flat screen TV and watched the Tiger Cruise welcome video which was playing continuously on one of the channels, which featured a brief introduction of the Captain and XO of the ship, and a brief look into the USS Abraham Lincoln's deployment. It also featured general safety information aboard the ship, and a handful of general rules which were mostly common sense warnings (like not going down to the reactor). After watching this short video, it was time to head back up and get some dinner. We were a bit early, as the Mess Call had just sounded, and when we arrived there wasn't a lot of food there. So we decided to wait, and head up to Vulture's Row to watch the sunset.

Continued on Page 3...