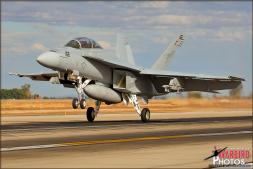 El Centro, California
- Nestled in a mix of California farmland and desert in what seems like the middle of nowhere 50 feet bellow sea level right on the border of Mexico and California is a well used United States Navy base in the city of El Centro. NAF (Naval Air Facility) El Centro was built first as a civilian airport in the late 1920s known as the Imperial County Airport. Shortly after World War 2 broke out, the US Marines acquired the land and formed MCAS El Centro during their search to expand and build new facilities to support the training and production needs of the war. El Centro became a hub of training and many different squadrons of Marine aircraft, including some of the most famous and advanced World War 2 Marine aircraft. Charles Lindbergh even flew a new version Vought Corsair aircraft to MCAS El Centro to teach the pilots and squadrons on the new advancements to the top of the line airplane. Near the end of the war, El Centro was used as transport training facility for the last part of El Centro's Marine Corps life.
Just after the end of World War 2, the station was decommissioned as a Marine base letting the Navy take over the base turning MCAS El Centro into Naval Air Station El Centro. It began its Navy life as a storage facility for aircraft along with weapons testing,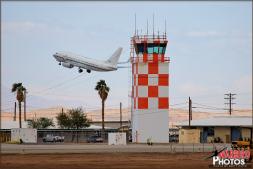 and in 1947 the Navy purchased the land to be a permanent military air station thus ceasing any possible civilian use. El Centro went on to be redefined and downgraded quite a few times, from Naval Auxiliary Air Station (NAAS) to Auxiliary Landing Field El Centro. At one point, it was known as a Joint Parachute Test Facility for different branches of the military. In 1967, the USN Blue Angels flight demonstration team chose El Centro to be their new Winter Training base because of the exceptional weather in the Imperial County area training at the base and in the surrounding deserts every winter prior to and just before the Airshow season. In 1979 the Parachute Testing program was moved to China Lake, and the base transformed over time to its current mission of US Navy and Marine weapons training. The base also currently is a refueling hub and staging base for all sorts of passing through aircraft on their way to the host of nearby Marine bases including MCAS Yuma, Arizona and MCAS Miramar, California... call it a 'motel' for passing through military aircraft and those that need weapons training. Squadrons from bases all around the United States (even the UK and other squadrons from France, Germany, and more) come out to NAF El Centro to train in terrain similar to that of the Middle East. NAF El Centro is one of the busiest training facilities in the United States to this day! The USN Blue Angels still use El Centro as their Winter Training home and the location of their first Airshow of the year as well.
A few weeks ago, I was given a call by a fellow aviation photographer friend about an opportunity to be a part of the well known 'photocalls' that take place on the base. Just a little under a month from the base's Airshow kicking off the US Military base airshow season, the plan was in motion for one of these special events. At first you may not believe what you're about to hear... but it's true! NAF El Centro hosts about bi-annually a 'photocall' event for photographers from various aviation media organizations. A group of about 15 photographers from each organization is allowed to attend this photocall bringing the total to about 45 photographers. Once assembled at the base, the photographers are bused out to the side of the runway where they can spend the day shooting fighter jets at only a mere 10-15 feet from the aircraft as they take off and land! It's an incredible event to take part of, and even more a wonderful and very rare thing this active military base does for these groups, especially since not all of the photographers are media professionals. At the time of this writing, I could only think of one other base that allows this incredible opportunity and that's Nellis Air Force Base out in Las Vegas, Nevada for their Red Flag events. Unlike El Centro, however, the Nellis Red Flag photo opportunities are only open to the press and they are much further back than the El Centro Photocall.

With the date set for February 16, 2012 and our backgrounds checked by the US Military, we were to meet out front of the base at 11:30am for check-in.
The USN Blue Angels take off from NAF El Centro in 2010 to start their practice, shot from just outside the base. - Photo by Britt DietzAn email went out saying that (optionally) we'd all meet outside the base at the active runway and shoot any aircraft activity at 8am before our check in. Activity at NAF El Centro really depends on what missions are going on that day. Some days you might only see 6 or so aircraft flying around after several hours. Other days you might see over a hundred take-off and landings throughout the same timeframe. Depending on the weather, you're pretty much guaranteed to see the Blue Angels during their practice days once they start to practice inside the base after their desert training. Many amateur and professional photographers alike, along with just lookie-loos, will come out to NAF El Centro throughout the year and hang out just outside the fences of the base to catch some of the activity. During the Blue Angel's winter training, there's often a group of people who meet each year and catch the Blue Angel's flights almost daily! Leading up to the Airshow at El Centro, which generally is the second Saturday of the month in March, the number of people outside the gates watching the Blues and other aircraft fly at NAF El Centro increases ten fold with many photographers. While this location was kept pretty secret over the years, word has gotten out beyond just the locals and photographers who know. Head up to El Centro just outside the fence on a casual weekend and you're sure to find some people out there watching.

With less than 24 hours till the long drive out from Orange County, CA to NAF El Centro, the weather was looking pretty dim. Heavy rains till about 3pm were forecasted for the day with 10-20 mph winds. With the event being over by about 5:30pm, that wouldn't give much time for any flying during the day. The schedule for this Photocall was that we'd be given base access to shoot the Blue Angel's practice show and then head out to the runway to shoot any departures and arrivals for a few hours. But with bad weather, the Blue Angels would cancel their flying for the day and any fighter activity would be cancelled due to bad visibility. By later that evening, the weather would be completely clear and the next few days were to be hot and sunny! It was too late to move the Photocall, so it looked like it would be a game of chance and luck if we were to get anything that day. With a three hour drive to NAF El Centro and having to get up at 4am to make sure with traffic I'd be there at 8am for shooting outside the base, I wasn't sure I would head out with the prospect looking so bad. But, the night before the event the weather reports appeared to be mixed about what time there'd be rain and for how long. I decided to tough it out as I wanted to take part in the event very badly, having seen photos from previous Photocalls at the base. I would head up to NAF El Centro with a friend who wouldn't be taking part in the Photocall, but he'd hang outside of the gates and watch all the aircraft throughout the day till I was done. Not too bad of a way to spend the day, especially when he'd be guaranteed to see the Blue Angels get really close.

4am came far too quickly, and forcing ourselves awake it was time to hit the road and make my way out there. At that early in the morning, it was pretty cold in California (well, cold for us who have been born and raised in California) but the roads were clear of any traffic.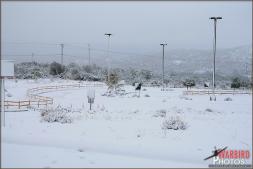 Snow and low visibility halt traffic in the area forcing drivers to seek shelter at the nearby Golden Acorn Casino. - Photo by Britt DietzEverything seemed to be going smoothly until about 60 miles to El Centro when the snow started falling through the pass, heavier and heavier. With near white out conditions, only about 50 feet or so visibility at times, and watching several cars slip and slide in the snow and ice, we decided it would be best to stop at the nearby Golden Acorn Casino and seek shelter from the storm until it passed. The snow came down harder and harder for an hour or so putting and unepxected stop to the trip and worry that we'd not be able to complete the trip to El Centro and have to wait out the storm for hours. Thankfully, about two hours later the snow was starting to clear up, and blue sky popping out between the clouds. We were able to be on our way again driving very cautiously on the slick, but now at least snow plowed, freeway. Amazingly enough, it was only about 10 miles from the Casino we had stopped at that we had lowered enough elevation that the snow was non existent and had turned into a light rain. It was amazing how just dropping a little bit of altitude can make all the difference, but we were still worried about weather at El Centro and how the reports might be true of bad storm rain. The rest of the journey went without a hitch and we arrived at NAF El Centro just before 10am. Not bad considering the freak snow storm we traveled through.

Miraculously, our day was improving as a giant hole in the weather brought sunshine and scattered cloud skies. At first, there was much more blue sky than clouds.
The CONA (Centennial of Naval Aviation) F/A-18C Hornet from VFA-125 'Rough Raiders' comes in for a landing at NAF El Centro. - Photo by Britt Dietz The base was already very active with several different F/A-18 Hornets and Super Hornets taking off the second we pulled up just outside the base, their unmistakeable ROAR shaking the car and overbearing the sound of the radio. We found out the Blue Angels had already done one practice flight for the day just an hour earlier, which we would have seen if not for the snow delays. Thankfully, that was just the first of two practices they would do during this day. We met up with the other photographers just outside runway 26 who were already photographing several F/A-18F Super Hornets as they came in for landings. It was then we got a special surprise: a CONA (Centennial of Naval Aviation) F/A-18C Hornet that was painted in a retro paint scheme from World War 2. This CONA Hornet was practicing touch and go landings, doing about 6-7 of them before finally landing. The weather looked like it would be a great day for flying, minus all the slushy mud everywhere from what looked like a full night and morning's rain. As the Hornets and Super Hornets came in for their landings nearly overhead from us, just about every photographer gathered in this area had their long lenses pointed skyward and silence fell upon them aside from the clicking chorus of shutters firing. Time went by quick, as it was soon about 1130 and time to head into base. From here I parted with my friend and hoped a ride with one of the other photographers as we headed towards the base.

After waiting as the different groups checked us in just outside of NAF El Centro's main entrance off to the side of the road, we were allowed in and caravanned to a large parking lot. From there, everyone gathered up all their equipment, did one last bathroom break (there would be no bathrooms available from the rest of the day out there) and huddled near the large white government vans and buses waiting to take us out. Once the last person had joined our large group from the restroom, we were given a standard safety briefing and instruction along with a welcome from the base's PAO officer, Michelle. We were also introduced to Kris, the Deputy PAO officer and a few other Naval personnel who would be overseeing us out on the runways. Rules were simple... basically don't do anything dangerous that would risk you, personnel, aircraft, or property on the base and follow all the rules of the personnel that were overseeing us throughout the day. We were also told to keep an eye out for any FOD (Foreign Object Damage, basically anything that can get sucked up into a Jet Intake and cause damage such as wrappers, hats, glasses, etc) and make sure we have hearing protection (I brought my Flight Deck Helmet, known more commonly as a Cranial) since we'd be standing about 10 feet from aircraft during the day. Finally, we were informed that the Blue Angels were scheduled to fly their second and last demo of the day at 1pm, which we would be able to shoot. From there, we piled quite literally into the white vehicles and we were on our way.


We headed out into the base, and right away we were greeted with the wonderful sights of numerous F/A-18 C/D/E/F Hornets and Super Hornets all lined up parked under little shade covers. The USN Blue Angels were all lined up to our right not too far away with cockpits open waiting their soon turn to come to life. There was activity all over the base with personnel, mechanics, and pilots working on planes.
Several Boeing F/A-18F Super Hornets sit in the shade inside overhangs lined up at NAF El Centro. - Photo by Britt DietzIt was clear it was a pretty packed house as some Super Hornets were parked out in the sun because of no more shade spots left. A Government Boeing 737 had just landed and was being refueled for a departure flight after possibly dropping off or picking up its cargo. We continued our photographer caravan in the white vehicles out to where they were already setting up the media tent for the upcoming Airshow in the middle of the base between runways, and we parked on the side of the taxi way (which was also a runway, but one that wasn't used as often) where we all departed our vehicles. At this point, the clouds were starting to roll in and the temperature was dropping. The Blue Angels had already set up their communications trailer box and several personnel were prepping all the various electronics used for the announcer. Soon Blue Angels #7 (Narrator) and #8 arrived in their very nice and rarely seen military A-2 jackets and prepared to start the show. This would be a full practice show with narration from the Blue Angels portable speakers they had set up for everyone to hear. I'm not sure if that was for our benefit, or if they do the speakers regardless. While it was going to be a practice show, it'd be a full start to finish practice show doing everything they would during their upcoming first airshow of the season. The Blue Angels are still neck deep in their training and still have a bit less than half their training still left to do, but yet they are already able to perform a full show!

After all the photographers got situated in their spots and we were instructed to keep a certain distance from the Blue Angel setup with the Narrator, every started to snap shots of the distant Government 737 as it taxied back out to take off. We were quite a ways from the main runway, so the 737 wasn't really worth shooting on takeoff.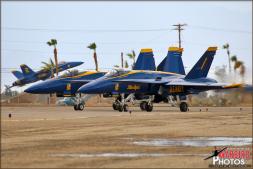 USN Blue Angels #1 and #2 taxi out to start the second Blue Angel practice of the day with the distant El Centro Blue Angel 'Gate Guard' in the background. - Photo by Britt DietzMost photographers watched as the pilots for the Blue Angels appeared with their planes in the distance, and soon the roar of the 6 F/A-18C Hornet GE Turbofan engines filled the air and with little time to spare soon Blue Angel #1, Boss, was taxiing out. We were told all the Blue Angels would be taxiing down the non-active runway we were parked next to, meaning we'd be just a few feet from the F/A-18 Hornets as all six of the Blues taxi past! It didn't take long for them to make their way over to the taxi way and pass directly in front of us. All cameras were wildly shooting each aircraft as they passed in a formation taxi, with each pilot waving or doing some other hand gesture at all of us out there: the Blues seemed to be having a fun time with us there. Everyone quickly repositioned themselves to get the best spot for their take off, which would be on the diagonal 30 runway, which wasn't as far as the 26 runway but still far enough it would be just like at the airshow next month. Because of the high winds picking up and slight sprinkle, they decided to launch the Blues one at a time, a very rare sight, for possible fear of collisions. Once each aircraft was airborne, it was time for the Blue Angel's show, with the heavy cloud layer overhead preventing them from doing their high show and instead opting them to do their lower show, which prevents them from flying into clouds causing dangers situations when they are their famous 36 inches apart at times.

It was clear after some time that the Blues were still packing in their formations and getting the maneuvers right. There were some times where one of the aircraft might be a little late or slow to join up with the formation, or one of the solos getting to their mark a little earlier than planned. But seeing how they are only just over half way through their two and a half month training, it wasn't bad at all.
Even with cloudy skies and having to perform a low show, when the sun would hit the USN Blue Angels, their colors were vivid. - Photo by Britt DietzPlus, none of us were complaining as we were getting a free Blue Angels show to photograph. The rest of the show was met with mixed weather, sometimes the sun would pop out making the beautiful blue and gold paint jobs shine with vivid color, and other times they'd be backlight and very dark with very muted colors. It's amazing how much the sun can bring out the best colors in a paint job. During the second half of their performance, they decided to redo a section of the show over again. Keep in mind this is a practice show and not a special show just for all of us. The diamond formation (#1 through #4) performed a rolling break several times, obviously not up to someone's expectations. Following their last maneuver with the Delta formation (all the Blues together) the two solos broke off and landed while the diamond stayed up in the air and practiced some more of the maneuvers they weren't too happy with. We were hoping that they would taxi back in front of us, but it was easier for them to taxi back across the base to their shut down positions. As the final part of the Blue's practice was drawing to a close, four very patient F/A-18 Super Hornets rolled out and waited for their turn to taxi out and take off for their weapons practice. A funny note here: the tower called the four Super Hornets and told them to turn off their blinking lights as they were distracting the Blues. As the diamond made their way for landing, we were told to go ahead and get back on board the buses and we'd be taken to the end of runway 26 to shoot launches and departures for the rest of the day... the REAL treat of the day!

Loading back into the buses and vans, and awaiting the go ahead of the base, we traveled up the taxi way and towards runway 26 as the four F/A-18 Super Hornets headed their way to it as well. While I'm sure everyone in the caravan of vehicles were hoping that we'd make it to the runway before the F/A-18s made it there to take off, alas we had gotten a bit of a late start and the Hornets beat us there, halting the caravan for safety reasons as they turned onto the runway and launched without any delay. We were still very close to the runway, and no doubt all eyes in all the vehicles were fixed on the departing aircraft. The ROAR from their engines was so powerful, even from the distance we were at, that everything in the cars shook and vibrated rather violently, and you could feel it in your stomach. Just experiencing that would have been a thrill to anyone, but we were about to get even closer to this. Once the last Super Hornet launched and was airborne, we were on our way again, parking on one of the old runways that are not used anymore that parallels 26 and we were given quick instructions on where we could and couldn't go. Basically, we as long as we didn't touch the white line on the side of the runway, and we didn't go past about half way down the runway we had pretty much free reign to travel up to the top of the middle. We'd be spending the rest of the photocall on the base here, till about 4:30pm.

Now, we were warned at the very first briefing by Michelle (the PAO) that she couldn't guarantee any or much activity on the base that day. Photocalls can be hit or miss, as mentioned, and we could easily have sat out there for hours and maybe just seen two or three aircraft. Perhaps none at all (though that's pretty rare, but possible)! So it became a waiting game keeping our eyes peeled to the skies and towards the parking area for signs of movement of possible jets taxiing out. It only took about 20 minutes, and two fighters were seen taxiing out towards us.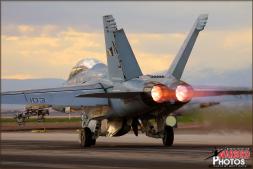 A Boeing F/A-18F Super Hornet from VFA-122 launches with the burners lit heading out to the weapons range at NAF El Centro. - Photo by Britt Dietz A Boeing F/A-18F Super Hornet from VFA-122 'Flying Eagles' and the CONA (Centennial of Naval Aviation) F/A-18C Hornet from VFA-125 'Rough Raiders' taxied out and took their positions on the runway with the Super Hornet closest to us on the side of the runway (about 15 feet from his wing) and the CONA Hornet on the right side. Now, in chatting with other photographers who had been on Photocalls before, they warned me that when a Super Hornet takes off this close, it's a feeling unlike anything you could ever explain fully to someone. Described as shaking your insides and even with heavy hearing protection the sound loud enough to make your clench as it passes... it was enough to make you actually fear this Super Hornet take off. It didn't take long for the pilot to select full afterburner and it came rushing down the runway towards where I had decided to stand, which was a little bit down from the runway for better angles on landing aircraft. With my cranial securely on and my camera firing full speed at the Super Hornet as it approached, I had little time to think to myself, but I do recall thinking at first "Oh, this isn't so bad!" But I then ate my words (and jet fuel as well) as the second the Super Hornet's afterburner flame came into view and it passed directly in front of me... it was like space and time was being ripped in mid air causing a deafening ripping roar along with a sonic earthquake that would vibrate anything and everything. I could literally feel my insides vibrating down to what felt like my skeleton as the incredible power of the two General Electric F414 turbofan engines providing 20,000 pounds of thrust! It was an unbelievable thing to experience first hand, and unlike anything I could possibly ever feel elsewhere in the world nor fully describe!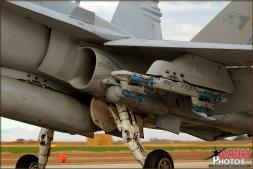 A Boeing F/A-18D Hornet loaded with MK76 practice smoke bombs heads out to the weapons range just outside of NAF El Centro. - Photo by Britt Dietz After the Super Hornet was airborne (dousing us with lovely gail force winds full of heated JP5 jet fuel), the CONA F/A-18C Hornet launched and much to my surprise, as other photographers mentioned, the legacy C and D model Hornets don't have that same bone shaking sound. While it was still incredibly loud and unlike any sound you've ever heard, even with hearing protection, this Hornet was on the far side of the runway and not as powerful as the Super Hornet with its modified newer engines. Soon the CONA Hornet was airborne and after both aircraft circled gaining altitude, they both headed out to the weapons range to drop their small MK76 practice smoke bombs. They would head out to the range, come in for a bombing run and test their accuracy being scored by either electronically rated targets or accompanying instructor aircraft. After releasing the 6 or so practice bombs, they would then return back to NAF El Centro. Instead of coming straight in to land, they would With a cross wind picking up a bit out there on the runway, watching the Hornets come in to land was quite interesting to watch as the pilots struggled to keep the aircraft level in the final moments to touch down. Hitting the runway pretty hard at times, you can't help but be amazed by the strength of the landing gear on Naval aircraft, having to put up with a lot of abuse on Aircraft Carriers.

As the day went on F/A-18 C/D/E/F Hornets and Super Hornets from various squadrons launched and recovered from the runway heading out to the weapons range for target practice. The F/A-18 C and D legacy model Hornets weren't nearly as loud as the Super Hornets, but nonetheless still a lot of fun to see! From the scanners that were tuned to the tower, we heard the tower warn incoming Hornets that there were photographers on the side of the runway. One particular exciting moment might possibly have been because the Hornet knew we were there and planned ahead. As a F/A-18D Hornet came in for landing the pilot decided to do a touch and go on the runway directly in front of all of us standing there.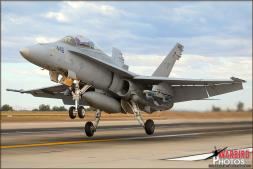 A Boeing F/A-18D Hornet begins to climb again after touching down and hitting full power in a touch and go landing at NAF El Centro. - Photo by Britt Dietz All of us weren't aware that the Hornet would do this, so when it abruptly hit the ground landing, all of a sudden the burners lit up and the sound increased as the Hornet suddenly pulled up skyward. Because of the increased wind, the Hornet crabbed a bit and suddenly the business end of the Hornet was pointed square at the photographers. The result: a couple of people lost their headphones, some gear, and one person even lost the glass out of his glasses! As the Hornet flew skyward and the heated wind subsided, everyone started to laugh at how crazy that moment was. Naturally, as the Hornet came around to land again, we were all prepared for another touch and go, but he decided to do a full stop landing. A little later on in the day, two distant dots appeared heading towards El Centro from the direction of MCAS Yuma. These two objects continued to get larger until through our long camera lenses we could make out the unmistakable shape of two Sikorsky CH-53E Super Stallions from HMH-465 'Warhorses' based at MCAS Miramar headed inbound. Passing over the runway behind us, the two Super Stallions came to a slow hover and then landed near the hot pit where they were quickly refueled, and then soon taking off they headed back towards MCAS Yuma. Just a quick gas up and go for them, off to whatever training they were taking part in. One thing that interest me was watching what the Hornets would do after landing, instead of heading directly into their respective parking spaces and shutting down, they'd take at least 10-15 minutes and visit the hot pit getting refueled. Curious as to why this was, I was told that the standard operating procedure was to have the Hornets all gassed up and ready to go for their next flights beforehand.

As the day continued on and the light started to fade out behind the ever growing clouds in the sky, it was soon time to wrap things up and head off to the last part of our photocall.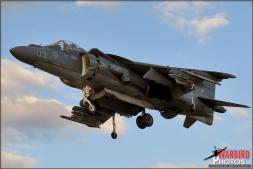 A Boeing AV-8B Harrier II from VMA-513 'Nightmares' comes in for a slow and quick landing using the directional vector nozzles at NAF El Centro. - Photo by Britt DietzUnfortunately, that was right when a Hornet's nest of activity was taking place. Not only were four Super Hornets returning from their bomb practice, but three Hornets were waiting to launch... and inbound were two AV-8B Harriers from MCAS Yuma. Thankfully, we were allowed to spend a little longer time out there on the runway to catch the two Harriers and the launching Super Hornets. The Harriers, both from VMA-513 'Nightmares,' came in very loud with a short hover landing thanks to their direction nozzles that provide them with the VTOL (Vertical Take Off and Landing) capabilities. If you think Harriers are deafeningly loud at airshows, try being 20 feet from one as it hovers to a landing. Thank goodness I had my cranial on. After both the Harriers had taxied off the runway and headed over to the hot pit to get refueled, the three patiently waiting Super Hornets took to the end of the runway and for the last time we'd get to see that day, hit the burners and took off skyward for a late day bomb run practice. It was at this point we were all told to go ahead and get back into the white vans for the next stop on our lovely day at NAF El Centro. Unfortunately, no one really wanted to leave and were dragging out the walk back to the vehicles, much to the frustration of our military escorts. I can't blame them, as I would have loved to stay too, especially with more Super Hornets inbound for landing. Eventually we were all corralled into the vans, and we were on our way again.

Our next stop, according to our driver, would be the USN Blue Angel's hangar. For a moment, I thought about this and suddenly realized I might have a chance to actually do something I've wanted to do all my life... get a photo touching a USN Blue Angel aircraft. Might sound silly, but growing up next to the former MCAS El Toro base,
USN Blue Angel F/A-18C Hornet aircraft lined up just outside the Blue Angel hangar at NAF El Centro. - Photo by Britt DietzI grew up with the sights of F/A-18 Hornets flying around and each year the big event was the MCAS El Toro Airshow featuring the USN Blue Angels. I could actually see them practice from not only my house, but my High School throughout the years. So the Blue Angels and F/A-18 Hornets in general, will always have a special place for me. I've now shot the Blue Angels countless times at countless airshows, and while I've gotten pretty close before (15 feet or so at El Centro in the past) I've never been able to go up and touch one and see one up close. The USAF Thunderbirds have had one of their aircraft on static display before at the Nellis AFB Airshow, so I've seen them up close, but the Blue Angels have always been tougher. So with the prospect of going to the Blue Angels hangar, I was starting to get excited that I'd finally be able to cross this photo off my bucket list! As we drove around the base, we had to divert from our path due to an oncoming AV-8B Harrier, and we soon found ourselves pulling up to the hangar. Inside I could just make out through the small opened doors that there were at least two Blue Angel aircraft in the hangar at the moment, and I started to really get excited that this would finally be the day I get that photo I've wanted for so long. Unfortunately, as soon as we exited the vehicles we were told to get back on as we'd spent too much time out on the runway getting everyone into the vehicles, and we didn't have time to visit the hangar. Safe to say I was pretty bummed, but I couldn't be too disappointed as the day had been pretty amazing regardless, so getting a photo with a Blue Angel aircraft will have to wait for another day.


Our final two visits were to the Blue Angel's main office, where they were selling some of their 2012 merchandise, and the NAF El Centro PX Store for some base merchandise. The Blue Angels did pretty well, as lots of the photographers bought hats, shirts, cups, coins, toys and more. Some bought the items for their kids or significant other, but most bought for themselves! I couldn't resist picking up a new 2012 shirt and a nice Blue Angel patch. Looking around the office, there were a lot of interesting things that I would have loved to take a better look at, including the Blue Angel pilot and maintenance uniform racks and the flight computers for the Blue Angel aircraft, but we were quickly reloaded into the vans and shuffled over to the base PX store. The PX stores, for those not familiar with Military bases, are like the military's version of a convenience store and target but on a very small scale. With no tax on everything in the store, it's a nice place to pick up everything from new uniforms you might need in the military to groceries, and even electronics like TVs. There they also have a section with NAF El Centro merchandise, which included shirts, patches, stickers, mugs, and more. Most people stayed in the vehicles with only a few coming inside the PX store and even fewer picking up any items. With that, it was the end of our photocall day and time to head back to the cars.

Dropping us off at our original pick up location, we bid adieu to our hosts and escorts, shaking hands and passing along thank yous for the wonderful day at NAF El Centro. As the sun set in the distance and the scattered cloud sky turned from an orange to a very deep red, each of us walked back to our cars and enjoyed the last sight of F/A-18 Super Hornets as a group of four came in for landing, breaking over the base to shave off speed and dropping their landing gear directly in the beautiful sunset sky. With that, the photocall of February 2012 was finished, but our time at NAF El Centro not over for the year with the upcoming NAF El Centro Airshow occurring in just a few weeks (March 10, 2012).

I would like to thank Keith and Damon for helping make this possible for me to join in on, and a HUGE thank you to El Centro's PAO Michelle and Deputy PAO Kristopher who made all this possible. Also a big thanks to all the US Navy drivers and escorts that stayed with us throughout the day.