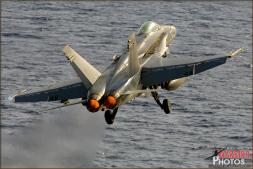 Oahu, Hawaii
- It's every aviation and military enthusiast's dream to be aboard a US Navy Aircraft Carrier at some point in their life, especially if they are a photographer. Very few people have the chance to take part in the magic of Carrier ops as a civilian, however, so when the rare chance does present itself, it should be considered a once in a lifetime event. Unless you join the United States Navy and find yourself assigned to an Aircraft Carrier, the rest of the world can only imagine what it's like to hear the roar of an F/A-18 Hornet as it's catapulted off the deck of the Carrier at speeds of 160mph in less than a second, or feel the nervousness as a E2-C Hawkeye attempts to snag a wire only a few inches thick with a hook on a pitching runway not much bigger than a few tennis courts. Even for myself, I'd always hoped that someday the chance would present itself, but it seemed so impossible that it became a life goal, but a distant one that was only a wishful thought. This all changed, however, and the incredible opportunity fell into my lap care of a good friend who was assigned to the USS Abraham Lincoln (CVN-72) Aircraft Carrier two years ago. Knowing my role in aviation photography and my love of the US Military, especially aviation, the second he found out that he would be stationed on the Carrier he immediately had me in mind, but how to get me on board? That's when the first mention of a Tiger Cruise for the Aircraft Carrier was mentioned, and right away he mentioned to me the possibility of taking part in this incredible trip. It took two years of waiting, as the USS Abraham Lincoln kept being deployed and taking part in various missions, along with undergoing new improvements and modifications that further pushed back the Tiger Cruise. It wasn't until the most recent six and a half month deployment of the Lincoln to the middle east that the Tiger Cruise started to become a reality, and soon I found myself realizing that the 'wishful thinking' dream of being able to see an F/A-18 Hornet launch and recover on board a Carrier was starting to become an actual reality... and the excitement began to rise.
You might be asking yourself, like many people have, what is a Tiger Cruise and why is it called a 'Tiger?' Well, after asking around while on board and doing research online, there's not a lot of information on where and when the Tiger Cruise first began, or why we're called Tigers. That being said, the Tiger Cruise is a long standing Navy tradition for sailors to sponsor close friends or family on board to observe what life is life for the crew on the Carrier on the last leg of a deployment.
Tiger Cruise 2011 participants line up to spell TIGER! on the flight deck of the USS Abraham Lincoln (CVN-72) Aircraft Carrier in this photo taken from a Kighthawk Helicopter - Photo by the US NAVY Certain sailors not crucial to the trip home are allowed to start their leave early, usually when docked at Pearl Harbor, Oahu in Hawaii in order to make room for the Tigers that will be coming aboard. Many, if not most, of the Navy ships in operation have Tiger Cruises at the last leg of the deployments and range from week long voyages to short handful of day hops. It's one of the rare few times non-media civilians can come on board and see the Aircraft Carrier full of life and in operation, opposed to the museum based Aircraft Carriers which are lifeless and more of a historical look than an actual life at sea experience. A tradition well looked forward to by many crew members as they can finally see familiar faces from home, and show they what they do in the US Navy. For this particular Tiger Cruise, the USS Abraham Lincoln would be coming home, finally, after a long deployment in the current conflicts, so the Tiger Cruise would be a bit more joyful one for the crew as they were getting closer and closer to ending their deployment and finally having leave. Beyond the daily operations of a Carrier, the 'Tigers' onboard would also be treated to some very special events, which vary for each ship having a Tiger Cruise. For the Lincoln on this Tiger Cruise, the events contained everything from an Air Power Airshow out at sea to various night entertainment, ice cream socials and other food specials, and even an at sea Refueling demonstration. While it was warned that there would be some down time during a Tiger Cruise, for the times where not much is going on above on the flight decks, down in the various lower decks there would be a buzz of activity as Tigers would be going around with their sponsors and completing a educational packet known as a 'Tiger Qualification Standard' (TQS) where Tigers visit various parts of the ship and listen to various crew members, pilots, and more discuss their role in keeping the massive building sized ship going. Of course, the highlight of the Tiger Cruises on Aircraft Carriers is of course the air ops by the Air Wing that's aboard, from the launches to the trap landings. There will be more on the TQS packet and the Air Ops in the upcoming stories from this Tiger Cruise.
The USS Abraham Lincoln (CVN-72), over 1,090 feet long in size and 20 stories tall containing over 4,000 Navy crewmen including the Air Wing. The fifth Nimitz-class supercarrier in the US Navy, the Lincoln is powered by a Nuclear Reactor and can carry over 80 aircraft ranging from F/A-18 Super Hornets fighter jets to SH-60 Seahawk helicopters. The Lincoln is the second Navy ship to bear the name, and is based out of Naval Station Everett, Washington having been launched on February 13th, 1988 and commissioned late the next year after being built for 4 years at a cost of 4.5 billion dollars. Capable of displacing 100,000 tons of water, the Lincoln can travel at speeds over 30 knots (about 35mph) and has four steam powered aircraft catapults on its 4.5 acres of flight deck. Just one of the 21 foot propellers (called screws) can weigh 24 thousand pounds!
The USS Abraham Lincoln (CVN-72), a United States Navy Aircraft Carrier, underway during the Operation Southern Watch 2002 deployment. - Photo by the US NAVY To put it simply, if the Empire State Building was laid on its side, ground floor to the top most roof of the building would measure only 160 feet longer than the Lincoln! The Lincoln has participated in various conflicts including the ladder end of Desert Storm and the most ongoing Operation Enduring Freedom. Providing United States military might in the Pacific Ocean, the USS Abraham Lincoln is a force to be reckoned with, capable of striking targets anywhere in the world. For the thousands of Navy sailors on board, The Lincoln is home for months on end, and more than just a ship; it's a small size city to them. With everything from ice cream machines, barber shop, and even a general store onboard, the Lincoln provides everything over 4,000 sailors will need on their 6 month or longer deployments. Here's another example of the sheer size of the Carrier, on a given day over 15,000 meals are served onboard of which over 800 pounds of vegetables are consumed, 180 dozen eggs eaten, and about 650 gallons of milk served. Saying it's a floating city only puts it mildly, when some cities in the United States are not even that large. While it takes a very lot to keep the Carrier going, what the Lincoln provides for the US Navy is beyond measure, being able to multitask its operational purpose from a striking force to medical and supply relief during natural disasters. With a wake behind the ship lasting miles and churning for about 10 minutes after the ship has passed, this formidable military vessel commands the seas and the air whenever it goes and is a far cry from the simple Aircraft Carriers during World War 2. Beyond the advancements in the ship itself, long gone are the days of propeller fighter aircraft and in is the age of Jet fighters. With most of the Air Wing made up of Boeing F/A-18C Hornets and the new E and F model Super Hornets, the Lincoln's onboard Air Wing actually rivals many countries entire Air Forces! Along with the Hornets, support aircraft including Electronic Warfare Northrop Grumman EA-6B Prowlers, Grumman C-2A Greyhound transport and cargo aircraft, Northrop Grumman E-2C Hawkeye Airborne Early Warning and Control aircraft, and a host of Sikorsky SH-60 and MH-60 Seahawk helicopters.
With all that in mind, I looked greatly forward to the Tiger Cruise, and the opportunity to not only see all this in operation first hand, but get to actually live it. It took some time before the trip for me to realize that this was actually going to happen, and that I'd really be living onboard a nuclear powered Aircraft Carrier, and it wasn't till I was sitting at the John Wayne Airport in Orange County, California waiting for my flight to Oahu, Hawaii that it really hit me that this was happening. Even still, it wasn't until I actually saw the Aircraft Carrier sitting in port that it really slapped me in the face that I would be actually taking part in something that would be so envied by everyone I know.
A wide assortment of Navy and Air Force aircraft sit at Hickam Air Force Base in Oahu, Hawaii as seen from a civilian airliner landing at Honolulu Airport - Photo by Britt Dietz My trip started a day before the scheduled date for Tigers to check into the carrier, so I could enjoy Oahu, Hawaii for a day and join my sponsor sightseeing. It was one of the first days off the Carrier he had taken in several months, so a sightseeing trip around the island and a nice hotel bed for the night was a very welcomed break from the bulkheads and ladders on the ship. The next day, March 13th 2011, was the day where everything began and I was to 'move in' to the Carrier for this journey. The Tiger Cruise for this deployment was a 5 and a half day cruise on the Carrier from Oahu to San Diego, California where the Carrier would dock at Naval Air Station North Island to drop off a majority of the sailors on board. Until the Tiger Cruise began, most of the sailors were on leave having a good time out in Oahu and getting anxious for their return home to San Diego, or the last little hop up to Everett. I had stepped foot on the Carrier the same day I arrived on March 12th, but only briefly so my sponsor could grab a few things to take to the hotel. Upon seeing the Carrier for the first time, I was amazed at the sheer number of Hornets sitting on the flight deck. I couldn't wait till I would walk through those fields of flying machines on the flight deck, but that would have to wait till the next day. Until then, it was a teasing preview of what awaited this journey for me to see. After some sightseeing the next day at some of the most beautiful beaches in the world around Oahu, it finally became time for me to get onboard and become an honorary citizen of this military city. Grabbing my bags and walking up to the Carrier and taking the big ladder up to the hangar bay where I checked in officially as a 'Tiger' was a pretty incredible experience, already my excitement was getting the better of me, and I found myself turned into a giddy little boy.
First stop on the Lincoln was the berthing area where I'd be staying and the introduction of naval bunks where I'd be sleeping. I was pleasantly surprised to see I was given a top bunk, which has a lot more room than I ever would have imagined, and was much longer than I thought. Having the misconception of someone of my height, 6 foot 4 inches, being forced to curl into human ball in a little claustrophobic coffin was one of the only fears I had being aboard this giant ship. As such, I was delighted to see I could actually sit up on the top bunk, and the bunk itself was large enough so that I could actually stretch out full height.
A typical US Navy style bunk on board the USS Abraham Lincoln, shown here from the male Security berthing quarters; My home for the next few days - Photo by Britt Dietz While the top bunk had a lot of room, the two bunks below me were another story, and I'm not sure how I would have faired with those more coffin like bunks. You certainly cannot sit up in those ones, and if you do, it's a mistake you'll make just once. I was to be bunked with the rest of the USS Abraham Lincoln security forces, who were all Navy and not Marines as many people believe. The security area of the Lincoln had some major advantages, one big one being that the entire section of the ship had only one ladder entrance down to the security area, and as such the berthing quarters and head (bathroom) were only used by security and not shared with the rest of the ship's crew. With only a limited number of men serving down there in security, there were no lines for showers or toilets, and it was always quiet. Your personal items were secure, as coming down those stairs into this section of the ship would be like walking into a police station where the police officers lived. For all the luggage and items I had brought, there were ingenious storage compartments under the beds that were accessible by lifting up the mattress and a metal lid that would expose all nicely divided compartment areas. Each bunk had one of these clever storage areas for the person who slept on top of it. Because I had brought a lot of items, mostly computer and camera equipment with backups (one can never be too prepared for an amazing trip like this) it took a bit of rearranging before I was able to successfully lower the top lit down with the mattress. After quickly setting up my luggage and getting that all stowed away, it was time to get a quick tour of the ship. With my sponsor and I were two friends who had moved out to Oahu, and came aboard for a brief tour of the ship, which would also be my first time seeing a lot of the various areas I'd be getting familiar with all too soon.

Continued on Page 2...
PAGE 1 OF 2 | GOTO PAGE: [1] [
2
]